Burn Calories While Having Fun
At 24 Fit Derby, we want to put the fun back into exercise by offering a variety of the latest fitness classes in Derby. From dance fitness to drum-inspired rock outs, there is something for everyone.Enjoy a full mind and body rejuvenation in our stretch-based classes or step out and box to your favourite, old school, hip hop and electronic beats with a mixture of easy-to-follow steps and low and high-intensity workouts to create a leaner, fitter you all while sharing a laugh with new friends.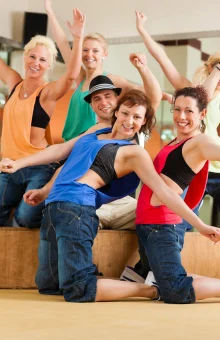 Zumba
The fast-paced, fun dance class which has everyone up on their feet. Zumba is inspired by Latin rhythms to bring a fun-filled fusion of dance, cardio and muscle conditioning.
Clubbercise
Can you believe that exercise can be so much fun? With disco lights, your favourite tunes, glow sticks, and your friends, it's time to party! Let's get moving and have a great time together!
Pound​
A full-body workout inspired by the awesome fun of playing the drums! Let the rhythm rule you, let the beat become you. Turn your workout into a jam session and pound your way fit.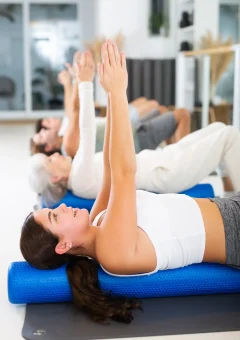 Pilates
Fitness Pilates improves your flexibility, coordination & balance in a relaxed group setting. Traditional Pilates takes you to the next level to strengthen your core & connect your body.
Balanced & Strong
A class designed to help the elderly improve their physical fitness, strength, and balance. The exercises are progressed slowly according to individual abilities. Tea and biscuits included!
FitSteps
An upbeat class featuring all of your favourite strictly dances with seperate daytime classes for lower impact and intensity. Suitable for all ages and abilities and you don't need a partner!