We give you some interesting facts about Pound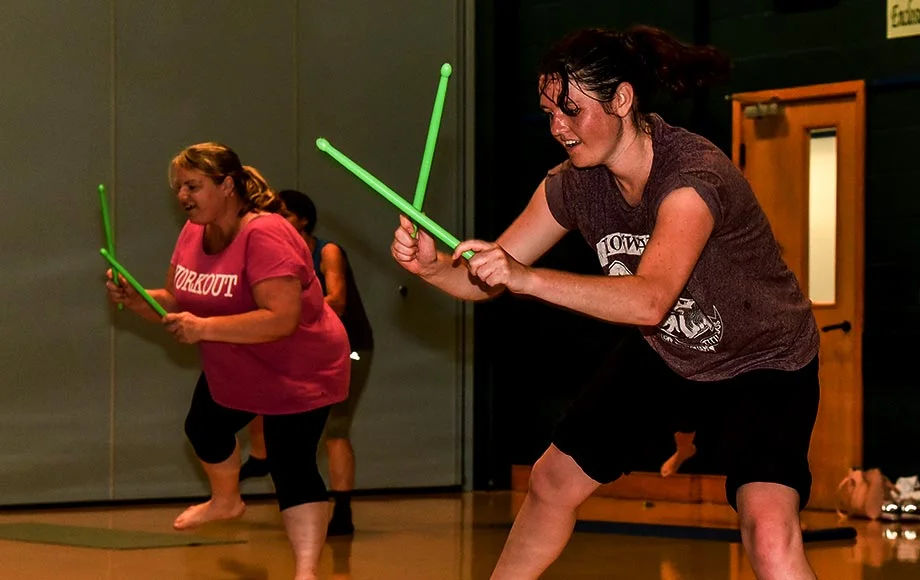 Pound was born in 2011 in the city of Los Angeles, California and now has 17000 instructors helping people 'rock it out' over 70 countries.
The drum sticks which are called Ripstix are green, not because it looks cool but because our brains tend to pay attention to the colour green more than any other colour. Just like a traffic light when green, it's time to go and push forward!!
Percussion and a rapid beat alters the brains blood flow and frequencies to allow improved focus, a higher level of thinking and better decision making.
Drumming as part of a group not only helps you get fit it also improves your mood, highlights a human connection but it also brings the community together it a good positive way.
Due to the structure within a Pound class you can be so consumed within the music and environment that you can end up performing up to 800 squats and lunges without even thinking about it.
By listening to the rhythmic strikes your mind and body connect improving not just your auditory skills but also enhancing your motor skills too. If you've not been a great in multi tasking, that may well improve after Pound!!
Are You Ready?
So now you have six reasons to get you started on a great fitness journey. Pound is designed for all fitness levels and by combining Pilates and Yoga movements you can use your lightly weighted Ripstix specially designed for exercise and transform your body at a pace which is right for you. They provide a quarter of a pound in weight providing enough resistance to workout those biceps, triceps, forearms, and back also dramatically increasing the amount of instability in the body.
The music used in a Pound workout has a rock theme so you can release that rock star inside you. Pound was in fact started by two women who were recreational drummers and realised after drumming without sitting on a stool that you could in fact use drumming as a form of exercise. If you have been to a concert or watched a band on tv you will notice that the drummer is the one not only working hard to provide a good rhythm for a song but also the one who gets quite sweaty with all the physical movement.
If I told you you could burn off around 900 calories or more after one hour in a Pound class that must get you thinking it may be a good idea as well as the fact you can workout to your favourite music. So with the improvement to your brain, co ordination, strength and help with weight loss amongst just some of the improvements you can make to your body and your life if may be time to find a class?
Check out the classes on the 24 Fit Derby website and start your journey to a new fitter you with Pound.